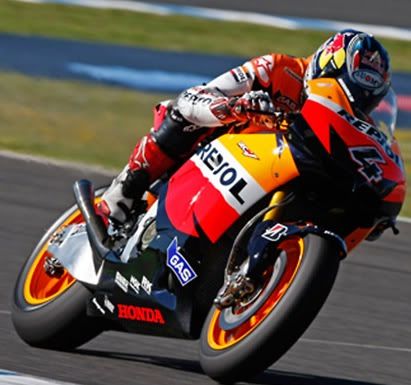 HRC has confirms that Andrea Dovizioso will still on Repsol Honda line up for 2011 MotoGP. It means, after Casey Stoner join with Repsol Honda, there will be three rider on next year MotoGP for Repsol Honda team. This contract was announced after HRC and Repsol signed more two year contract. Previously Honda Racing Coorp ever had three riders on their line up while Mick Doohan, Alex Criville and Shinichi Ito rider for Honda at 1995.
"We are delighted to announce that our valued partners at Repsol will once again join us in our quest for the MotoGP World Championship next year," comments team President Tetsuo Suzuki.
"Honda's partnership with Repsol has been long and successful and we are very proud to be together again for this challenge into the future. We are also very pleased to expand the Repsol Honda Team to once again include three riders next year.
"Our current riders Dani Pedrosa and Andrea Dovizioso will be joined by Casey Stoner, all racing in Repsol Honda colours, to form a truly formidable line-up that we believe can fight for victory at every race and achieve our joint goals, recapturing all three MotoGP World Championship titles."
Andrea Dovizioso finished 5th on this season 2010 MotoGP, up one place from 2009 MotoGP season.